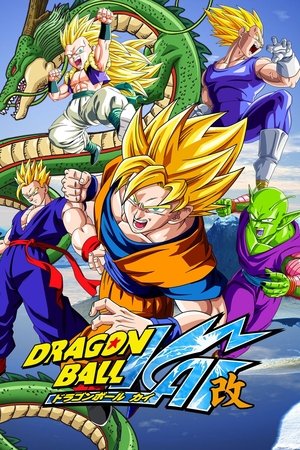 {!! $ads->leaderboard !!}
Episodes List
Ep.1

Peace for the Future! The Spirit of Goku Is Forever!
Air Date: 2011-08-02
After returning to the Earth of the future, Trunks reunites with Bulma, and talks about what happened in the past. Trunks prepares to head back into the past to tell everyone of his victory. However, there is still one more android to stop: Cell.
Ep.2

Videl's Crisis? Gohan's Urgent Call-out!
Air Date: 2014-04-20
Soon after, Gohan saves the passengers of a plane about to crash and extinguished a fire that caught fire in a building in the city by destroying the water container. On his way to school, Gohan is chased by Videl in her helicopter, who is trying to find out who is hiding under the mask of Great Saiyaman. Gohan escapes by placing Videl's helicopter on the roof of a building. Both of them arrive to school late, which leads Videl to be even more suspicious of Gohan. Later, kidnappers from the Red Shark gang take the mayor of Satan City hostage. The police warn Videl of the situation. Videl confronts the leader of the gang. Great Saiyaman comes to the rescue, but Videl manages to beat him. Gohan saves the mayor of the city while stopping the attempts of the rest of the gang. Videl learns that Gohan was out of school at the same time. Videl is led to believe that Gohan and Great Saiyaman could really be the same person.
Ep.3

A Monster Is Taken Away! The Culprit Is Great Saiyaman?
Air Date: 2014-04-20
The next day, Gohan learns that Chobi, who is the child of Toto the pterodactyl, has been captured by a circus and put on display. In his attempt to rescue Chobi, Gohan is portrayed as a criminal. Videl pursues Gohan as a suspect. When Chobi's parents attack the city in search of their child, Gohan manages to handle the situation and return Chobi to his parents. Videl discovers the truth that Gohan is Great Saiyaman. Videl blackmails Gohan into participating in the 25th World Martial Arts Tournament. As some of the other Z Fighters express interest in the tournament, Goku calls out from the Other World and says he will return to Earth for a single day to participate.
Ep.4

Entering the World Martial Arts Tournament! Goten Shows Off His Explosive Power During Training!
Air Date: 2014-04-20
After Gohan spreads word of the tournament to the others as well as managing to convince Chi-Chi to let him participate himself, Gohan takes a leave of absence from school and begins training with Goten. Gohan is surprised to find that Goten not only possesses great strength, but he is also already capable of transforming into a Super Saiyan even though he has yet to learn how to fly. Videl comes around to have Gohan make good on his promise to teach her how to fly.
Ep.5

Who Is the World's Greatest? The Tournament Preliminaries Begin!
Air Date: 2014-04-20
The preliminary rounds begin. The fighters must hit a punching machine to rank their strength. The Dragon Team effortlessly qualifies for the tournament. Vegeta destroys the machine with a single punch. Afterwards, Goku and the others decide to go and watch the tournament of the juniors division.
Ep.6

The Junior Champ Is Finally Decided! Who Will Fight Against Mr. Satan?
Air Date: 2014-04-20
While Trunks seems to have the advantage, Goten turns Super Saiyan to free himself from his opponent's grasp when he was not allowed to do so. Trunks takes on a challenge by trying to beat Goten with only his right arm. The latter also becomes a Super Saiyan and sends an energy ball to hit Goten, which lands on a part of the bleachers. The final juniors division match eventually comes to an end, where a sneak attack by Trunks causes Goten to lose by ring out. Trunks wins the battle as well as the juniors division tournament. Trunks will fight Mr. Satan in an exhibition match. Mr. Satan watched the fight between Goten and Trunks. He is reminded of the battle with Cell. Mr. Satan faces a problem because he has to fight against Trunks. After various attempts to try to get out of the fight, Mr. Satan decides to pretend to lose and have Trunks hold back his attack in order to keep up his public appearance. Trunks' weakest punch manages to send Mr. Satan flying out of the ring.
Ep.7

An Eerie Entity; Who Exactly Is Spopovich?
Air Date: 2014-04-20
Piccolo abandons his fight against Shin. Piccolo learns from Kibito that Shin is actually the Supreme Kai. The Supreme Kai is believed to be even more powerful than the Grand Kai. Videl is fighting against Spopovitch. Videl appears to get the upper hand in her match, but Spopovitch keeps getting up no matter how many times he is knocked down. He eventually fights back. Goku suspects that something is amiss about Spopovitch. Goku realizes that Spopovitch is no longer the same person as in the past and thinks that Videl must abandon the fight. The last time Spopovitch participated in the tournament, he barely lasted 5 seconds in front of Mr. Satan. Something has changed in him. He has acquired new powers. This proves true when he continues fighting even after Videl breaks his neck. Seeing his opponent tired, Spopovitch regains the lead over Videl. Videl attempts to use her flight to regain her strength, but Spopovitch follows her into the air and uses energy blasts against her. As Videl refuses to give up despite the beating she is taking, Goku wonders where Spopovitch got his power from.
Ep.8

A Creeping Conspiracy! The Target Is Gohan
Air Date: 2014-04-20
Goku returns from the Korin Tower with three magic beans and Son Gohan rushes to the infirmary to give one to Videl, who heals quickly from her wounds. The young man must face Kibito, but realizing that he has lost his headscarf, his classmates discover that Great Saiyaman is none other than Gohan. Kibito forces his opponent to turn into Super Saïyen, which he accepts. Shin asks Son Goku and others not to intervene, as Yamu and Spopovitch are going to attack Son Gohan to steal his energy. Yamu and Spopovitch hold Gohan down, while they plunge a device into Gohan to drain his energy. Their mission accomplished, the two enemies fly away, and Shin flies off in pursuit. Goku, Piccolo, Krilin and Vegeta decide to accompany him.
Ep.9

Peace Returns! A Time of Rest for the Warriors!
Air Date: 2014-04-20
With Majin Buu defeated, peace has returned to Earth. Finally, the fighters can sit back and party!
{!! $ads->leaderboard !!}