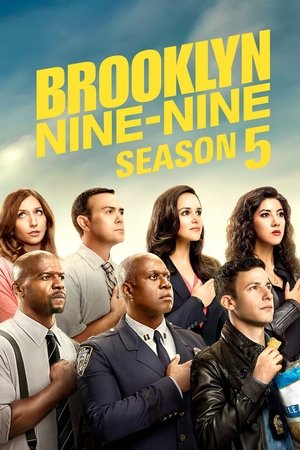 {!! $ads->leaderboard !!}
Episodes List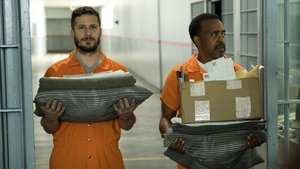 Ep.1

The Big House Pt.1
Air Date: 2017-09-26
Jake and Rosa assimilate to their new lives behind bars, but both are coping in very different ways. Jake bonds with his cellmate, Caleb, and is forced to join a prison gang led by notorious inmate Romero, in order to gain his protection. Meanwhile, in the women's prison, Rosa puts Holt and Terry to the test by having them complete outrageous favors for her. Back in the precinct, Amy and Charles are doing all they can to exonerate their colleagues.
Ep.2

The Big House Pt.2
Air Date: 2017-10-03
When the warden asks Jake to investigate Romero's drug smuggling operation, Jake and Caleb find themselves caught between the loyalty Jake has sworn to both of them. Meanwhile, Amy is offered a deal by a local mobster who claims he can prove that Hawkins is guilty, but Holt and the rest of the gang think they have a safer plan.
Ep.3

Kicks
Air Date: 2017-10-10
Now that he's officially back at the precinct and desperate to solve a real case, Jake finds a loophole to get out of his temporarily designated desk duty. Unfortunately, that loophole rests on his ability to pass an official evaluation performed by Holt. While Charles provides Jake with moral support, Terry and Amy help Rosa, who believes Pimento may be cheating on her.
Ep.4

HalloVeen
Air Date: 2017-10-17
The Nine-Nine embarks on its fifth annual Halloween Heist and, as usual, everybody has a plan and no one is safe. Relationships and friendships are tested as the title "Amazing Human Slash Genius" must be snagged by midnight, leaving everyone pitted against each other.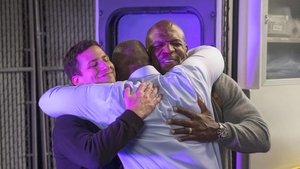 Ep.5

Bad Beat
Air Date: 2017-11-07
To track down the infamous arms dealer Dan "Daniel" Valdano, Jake and Terry go undercover at an illegal gambling club, but when Holt gets involved to coach the two in the art of poker, his addiction resurfaces. Meanwhile, Boyle buys a food truck that was formerly used in a brutal string of murders without telling his investor, Amy, and Hitchcock and Scully challenge Rosa to a "Butt-lympics."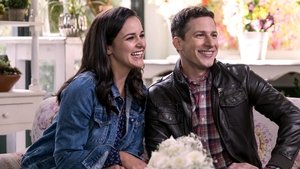 Ep.6

The Venue
Air Date: 2017-11-14
The always unwelcome Vulture pops back into Jake and Amy's lives, threatening to swoop in and take something important away from them. Meanwhile, Boyle and Rosa must track down "Sergeant Peanut Butter," the kidnapped NYPD horse that Charles envies, and Holt challenges Terry to be less image-conscious.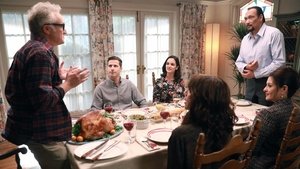 Ep.7

Two Turkeys
Air Date: 2017-11-21
Jake and Amy attempt to get their parents to bond over Thanksgiving dinner; When Holt's Thanksgiving pie is stolen from his office, he searches for the culprit.
Ep.8

Return to Skyfire
Air Date: 2017-11-28
When Terry's favorite author, DC Parlov, returns to the precinct because his latest manuscript was stolen, Terry and Jake convince Rosa to go undercover with them at a fantasy fiction convention to find the culprit. As drama ensues between Parlov and another writer, Terry admits that he's been writing a book of his own. Back at the precinct, Holt, Amy and Charles take a forensics course, but Charles' big mouth gets him in trouble.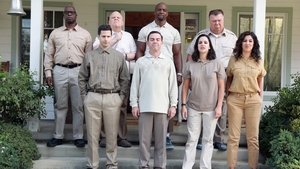 Ep.9

99
Air Date: 2017-12-05
While the entire precinct attends a funeral in LA, Holt learns that he is in the running to become Chief Commissioner of the NYPD - his dream job. But after missing their flight back to New York, Jake must devise a variety of ways to get Holt back in time for the interview.
Ep.10

Game Night
Air Date: 2017-12-12
Rosa begs Jake to help her break some big news to her parents, but her plan is thrown off when they wrongly assume the two are dating.
Ep.11

The Favor
Air Date: 2017-12-12
When Seamus Murphy returns to redeem the favor Holt owes him, the precinct searches for a loophole that will allow Holt to uphold his end of the bargain without breaking the law.
Ep.12

Safe House
Air Date: 2018-03-18
After Seamus threatens Kevin, Holt devises an elaborate plan to hide him in a safe house, with Jake as his guard. Kevin is miserable as the 99 works overtime to find Seamus and take him down.
Ep.13

The Negotiation
Air Date: 2018-03-25
Jake is called upon to negotiate a hostage situation with a jewel thief, only to discover that the culprit seems to be a familiar face. Amy and Gina help Charles with the high demands of his new food truck, and Holt panics when a member of the Police Commissioner selection committee decides to interview Hitchcock about Holt.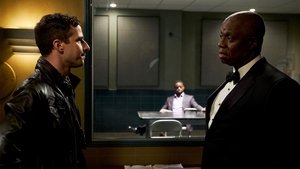 Ep.14

The Box
Air Date: 2018-04-01
Jake embarks on an all-night long interrogation in order to elicit a confession out of a suspect. But when Captain Holt skips the opera in order to stay back and help, the two cops clash over how to get him to talk.
Ep.15

The Puzzle Master
Air Date: 2018-04-08
Jake surprises Amy with an investigation into a string of arsons connected to her favorite crossword puzzle author, Vin Stermley. Meanwhile, Gina helps Holt jazz up his Commissioner candidate speech, and Terry, Rosa, Hitchcock and Scully argue over who is most deserving of the new detective car.
Ep.16

NutriBoom
Air Date: 2018-04-15
Jake and Charles realize that they've been suckered into the cult-like NutriBoom pyramid scheme, and must find a way to sever their contracts.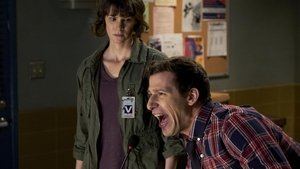 Ep.17

DFW
Air Date: 2018-04-15
Jake invites his newly discovered half-sister to stay with him in New York, but when he and Amy realize she's a bit of a nightmare, they must find a way to get her back home to Dallas.
Ep.18

Gray Star Mutual
Air Date: 2018-04-22
When a fire destroys Charles' food truck, Pimento unexpectedly shows up to the scene as the insurance agent. Meanwhile, Rosa helps Amy to see that it's okay to get excited about picking her wedding dress, and Gina and Terry coach Holt in the art of social media.
Ep.19

Bachelor/ette Party
Air Date: 2018-04-29
Charles plans an elaborate scavenger hunt for Jake's bachelor party, but the day goes awry when the guys decide to take some short cuts instead. Meanwhile, Amy's bachelorette party escalates when the ladies realize she previously slept with a member of her soon-to-be wedding band.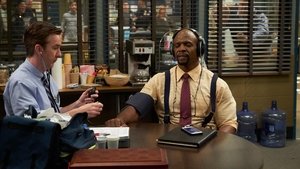 Ep.20

Show Me Going
Air Date: 2018-05-06
When Rosa responds to an active shooter alert, the rest of the squad is forced to stay back, desperately fearing for her safety. Feeling helpless, Jake frantically brainstorms ways to offer his assistance, Terry faces an existential crisis and Gina and Amy try to make themselves useful by fixing Rosa's broken toilet.
Ep.21

White Whale
Air Date: 2018-05-13
Rosa and Amy team up to take down their "white whale" suspect - a ruthless killer who has managed to elude them for seven years - while Terry helps Jake tackle his wedding planning chores. Then, Captain Holt and his rival, Olivia Crawford, try to convince each other to step down in the campaign for Commissioner.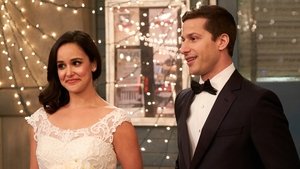 Ep.22

Jake & Amy
Air Date: 2018-05-20
Jake and Amy's wedding day is majorly threatened, and Charles and the whole squad rush to help save it. Amidst the chaos, Holt hesitates to open the email that will indicate if he has won his campaign for Commissioner, despite Gina's encouragement. Meanwhile, Terry gently pushes Rosa towards a potential love interest.
{!! $ads->leaderboard !!}